You must be a retail financial advisor or retail investor to order at the website rates. If you're not, please call Brooke at 877-256-2304 to discuss your pricing options.
Side by Side Comparison
Click on each of the products below to compare their features: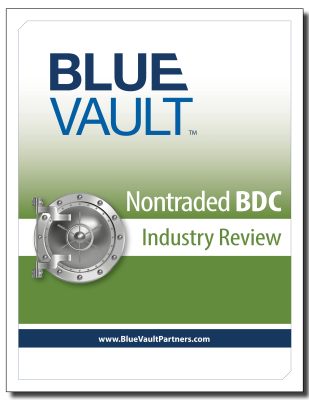 BDC Classic
$125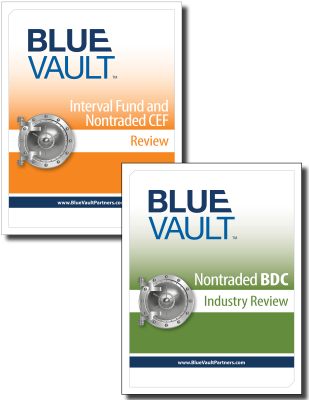 BDC/IFCEF
$175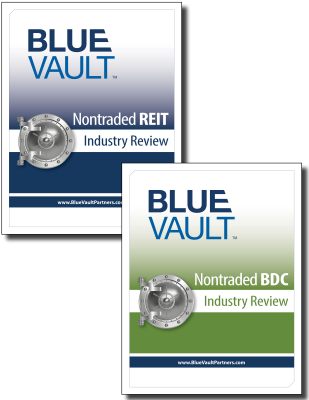 NTR/BDC
$275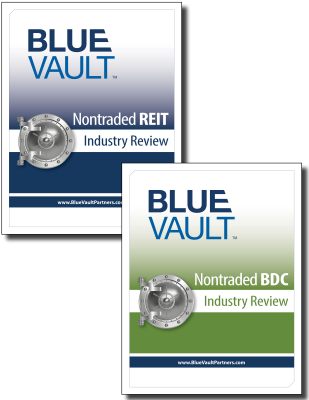 NTR/BDC Plus
$350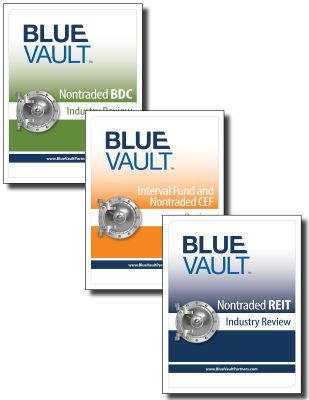 Essentials
$325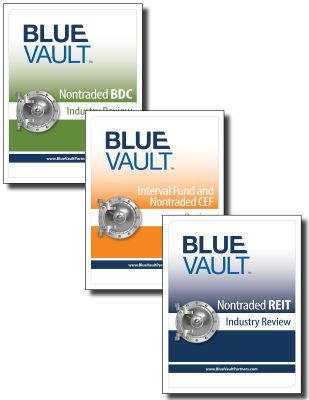 Essentials Plus
$400
Please Note: One PRINT copy of NTR Review is included in all "Plus" packages. All other products included in Blue Vault Subscription Packages are available online only.
BDC Classic
$125
Buy Now
Includes the following:
Nontraded BDC Quarterly Review

(dating back to 2013)

One Additional User Seat

(must be in same physical office)
BDC/IFCEF
$175
Buy Now
Includes the following:
Nontraded BDC Quarterly Review

(dating back to 2013)

Interval Fund and Nontraded CEF Reviews

(new in 2017)

One Additional User Seat

(must be in same physical office)
NTR/BDC
$275
Buy Now
Includes the following:
Nontraded REIT Quarterly Review Online Access

(dating back to 2009)

Nontraded BDC Quarterly Review

(dating back to 2013)

Nontraded REIT Fee Study

(new in 2016)

Nontraded REIT Full-Cycle Performance Study

(four editions)

Insight Articles
Nontraded REIT and Nontraded BDC Annual Brief - Year in Reviews
One Additional User Seat

(must be in same physical office)
NTR/BDC Plus
$350
Buy Now
Includes the following:
Nontraded REIT Quarterly Review Print Copy
Nontraded REIT Quarterly Review Online Access

(dating back to 2009)

Nontraded BDC Quarterly Review

(dating back to 2013)

Nontraded REIT Fee Study

(new in 2016)

Nontraded REIT Full-Cycle Performance Study

(four editions)

Insight Articles
Nontraded REIT and Nontraded BDC Annual Brief - Year in Reviews
One Additional User Seat

(must be in same physical office)
Essentials
$325
Buy Now
Includes the following:
Nontraded REIT Quarterly Review Online Access

(dating back to 2009)

Nontraded BDC Quarterly Review

(dating back to 2013)

Interval Fund and Nontraded CEF Reviews

(new in 2017)

Nontraded REIT Fee Study

(new in 2016)

Nontraded REIT Full-Cycle Performance Study

(four editions)

Insight Articles
Nontraded REIT and Nontraded BDC Annual Brief - Year in Reviews
One Additional User Seat

(must be in same physical office)
Essentials Plus
$400
Buy Now
Includes the following:
Nontraded REIT Quarterly Review Print Copy
Nontraded REIT Quarterly Review Online Access

(dating back to 2009)

Nontraded BDC Quarterly Review

(dating back to 2013)

Interval Fund and Nontraded CEF Reviews

(new in 2017)

Nontraded REIT Fee Study

(new in 2016)

Nontraded REIT Full-Cycle Performance Study

(four editions)

Insight Articles
Nontraded REIT and Nontraded BDC Annual Brief - Year in Reviews
One Additional User Seat

(must be in same physical office)