Taking Advantage of Temporary Disconnects in the REIT Market
August 8, 2017 | Brad Case | REIT.com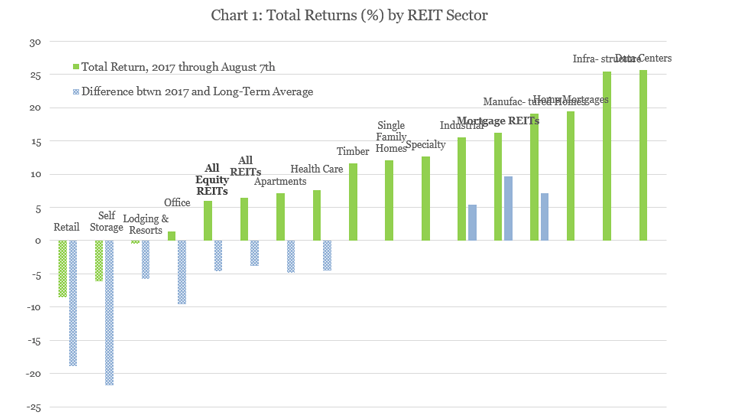 One of the most successful investment strategies, historically speaking, has been value investing: identifying companies whose stock prices have drifted too low, and profiting from the stock price recovery as the rest of the market begins to recognize the disconnect.  Benjamin Graham.  Warren Buffett.  Fama & French, who launched a thousand empirical studies showing, again and again, that stocks whose prices are low relative to various measures of "value" have persistently outperformed those that are termed "growth" stocks (which means simply that their high stock prices can be justified only by optimistic expectations for future growth).
The REIT industry as a whole can generally be considered part of the "value" part of the market.  REIT investors don't have to rely on optimistic expectations (for drug approvals, new product acceptance, that sort of thing) because the REITs' assets are easy to see and comparatively easy to value—but that doesn't mean their stock prices can't be beaten down to the point where they become even more attractive than usual.  Through the first week of August, two segments of the exchange-traded U.S. REIT market had dramatically underperformed the others: Retail REITs had posted total returns of -8.55% and Self Storage REITs had returned -6.11%, while the return for all equity REITs together (the FTSE NAREIT All Equity REIT Index) had averaged a much better +5.98%.  In a recent market commentary I showed that the yield spreads in those two segments—that is, their average dividend yield minus the yield on 10-year Treasury securities—had become much, much higher than their historical norms, suggesting that those two sectors may be the most undervalued segments of the REIT market.
The relatively low returns of Retail and Self Storage REITs during the first part of 2017 are—to say the least—not typical for either group.  Data for sector indices go back to the beginning of 1994, and over that period of just over 23½ years total returns have averaged +10.38% per year for Retail REITs and +15.69% per year for Self Storage REITs.  That's much stronger, in both cases, than for the broad U.S. stock market, where total returns averaged just +9.45% regardless of whether you measure them using the Russell 3000 total-market index or the S&P 500 Index of just the largest companies.

Go Back
Austin Gross
Blue Vault Broker Dealer Educational Summit
Blue Vault has been an important partner to Geneos in providing us and our advisors pertinent information about non-traded products and the industry as a whole. The annual BD Summit is a valuable due diligence experience for any broker dealer."