REITs Leading the Sustainability Movement Among Commercial Real Estate
April 18, 2017 | by Alexandra Thompson and Fulya Kocak | REIT.com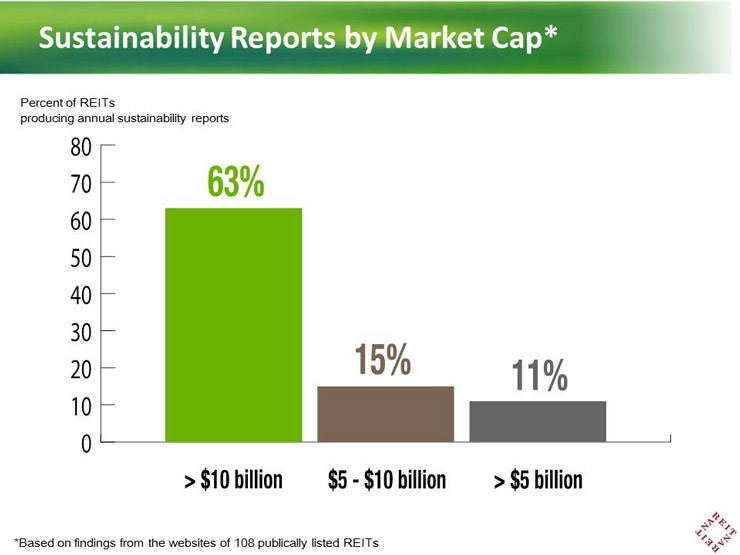 The movement towards more sustainable practices continues with commercial real estate, and REITs are helping lead the charge. Over the last decade, Environmental, Social and Governance (ESG) issues and sustainability have received increased attention from both the public and investors of commercial real estate.
Many REITs are industry leaders in implementing sustainability strategies, disclosing their operational impact and efforts through various means, such as their websites and annual sustainability reports. A number of REITs also have in-house staff members fully dedicated to sustainability within the organization and its portfolios. NAREIT has completed a review of publicly available sustainability information, and our findings indicate that larger REITs are more robust in reporting their ESG performance compared to smaller REITs.

Go Back
John E. Moriarty, ChFC
December 2015
I have been in the financial services industry for 20 years and our firm provides an education platform that gets clients to "think differently" about their financial picture.  For many years we have communicated to clients the need to diversify their portfolios using alternative asset classes and more specifically, private non-traded investments.  Due diligence on these types of financial vehicles is essential and when I learned about Blue Vault in 2010, our firm immediately began using their material as a tool to build confidence in the minds of our advisors on which alternatives to recommend to clients.  I am impressed with the way Blue Vault continues to add value to their subscribers and I view their publication as a tremendous resource in today's complex world.