REITs offer healthy dividends for income-focused investors.
5/25/2016 | By Charles KeenanPublished in the May/June 2016 issue of REIT magazine.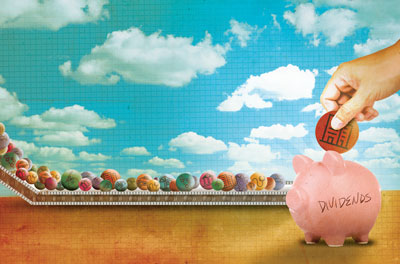 As the global population ages, the investing world's appreciation for dependable income streams to fund retirement continues to grow. At the same time, economic uncertainty and global financial concerns are weighing on the stock market, making dividend-paying equities more appealing. Against that backdrop, REITs' history of performance indicates they are sitting in a sweet spot for investors searching for hard-to-find, stable yields.
"It's not surprising that REITs, which generally pay a healthy dividend, should be considered as part of any allocation strategy," says Jason Yablon, global portfolio manager at Cohen & Steers. "You are potentially getting good current income with good inflation upside protection."
In general, dividends certainly contribute to total return, having made up 29.7 percent of average total annual return of the S&P 500 over the last 40 years, when accounting for payment and reinvestment, according S&P Dow Jones Indices. Compare that with 59.9 percent for listed REITs over that same time period.