---
REITs and Real Estate Get a Second Wind
7/18/2016 | By Calvin Schnure | REIT.com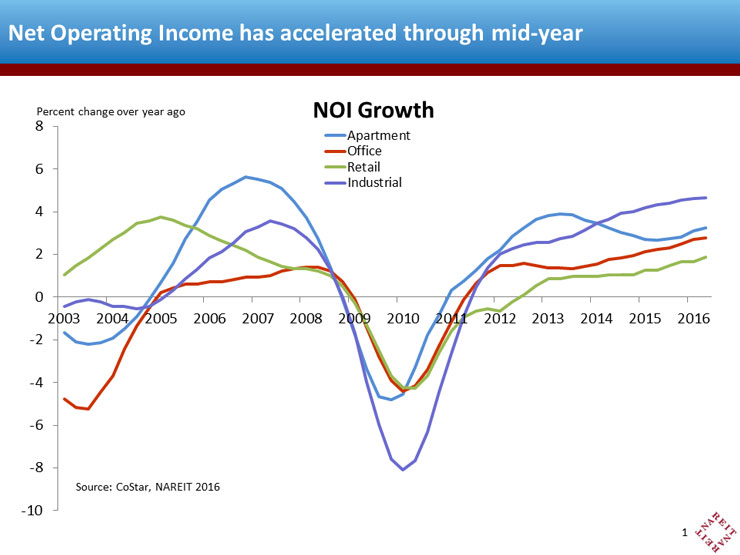 The macroeconomic picture took a turn for the worse last winter. Global concerns prompted a sell-off in equity markets, while GDP growth disappointed in the first quarter and job growth showed signs of faltering. Trends in real estate markets added to these worries. New construction, which has been ramping up steadily since 2011, raised the risk of new supply saturating the market. Property prices stalled mid-winter, and prospects of higher interest rates posed growing headwinds for the sector.
These developments led to the perception that the real estate cycle was in its late stages, with many media reports warning that the market was in danger of topping out. To paraphrase Mark Twain, though, rumors of an impending real estate downturn have been greatly exaggerated. We expect the real estate recovery to continue for the medium term.
What's responsible for this more favorable outlook? Many economic indicators have shown improvement in recent months. A solid jobs report for June provided reassurance that the economy's legs were still solid. Consumer spending has been robust, and industrial production is solid. Perhaps most important, the Federal Reserve has signaled that they are in no hurry to raise interest rates.

Go Back
Derek Hayes
Blue Vault's Services
BlueVault saves a lot of time and effort in obtaining good numbers for analysis and provides good insights to compare against my own.