Why Have REITs Underperformed the Stock Market Recently?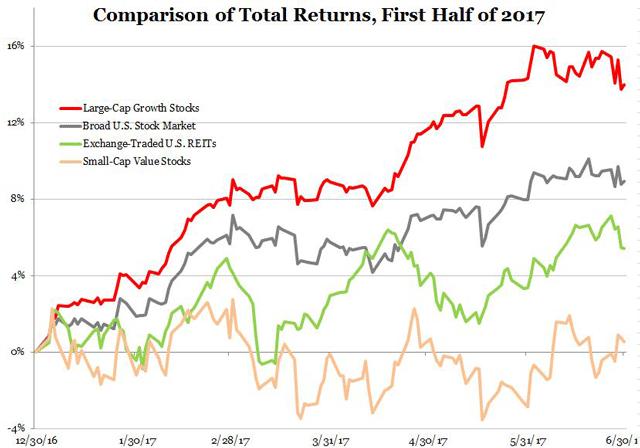 July 12, 2017 | By Brad Case | Reit.com
Over the first six months of 2017 the broad U.S. stock market had outperformed the REIT market, with the Russell 3000 Index showing total returns of 8.93% compared to just 5.43% for the FTSE NAREIT All REIT Index.  Several market observers have raised the question why investors seem to like non-REIT stocks more than REITs.  Dig just a little deeper, though, and this turns out not to be a "stocks vs REITs" story at all.
The first thing to notice is that this has been a growth rally, not a value rally.  Growth stocks are not defined as "companies whose returns will grow strongly"—rather, they may be companies whose stock prices are already high relative to any of various measures of earnings (for example, they may have high P/E ratios, or high stock prices relative to the book value of their assets) or simply companies that have grown strongly over the past several years.  In fact, long-term data (the famous Fama-French research) show that the total returns of so-called "growth stocks" have generally been lower than for other stocks.  The reason they're called "growth stocks" is just this: the only way their current stock prices make sense is to imagine that investors expect their earnings to grow strongly in the future, thereby justifying their already-high stock prices.
In contrast, "value stocks" are companies whose stock prices are currently low relative to the various measures of earnings, including those with low P/E ratios.  In this case the terminology is more descriptive: value stocks can be thought of as companies whose stocks are priced favorably and may therefore represent particular "value" for the investor.  In fact, the Fama-French long-term data show that "value stocks" have generally outperformed growth stocks.  Over shorter horizons, though, growth stocks may do better than value stocks—and that is exactly what happened during the first half of 2017, with the Russell 3000 Growth Index showing total returns of 13.69% compared to just 4.32% for the Russell 3000 Value Index.

Go Back
John E. Moriarty, ChFC
December 2015
I have been in the financial services industry for 20 years and our firm provides an education platform that gets clients to "think differently" about their financial picture.  For many years we have communicated to clients the need to diversify their portfolios using alternative asset classes and more specifically, private non-traded investments.  Due diligence on these types of financial vehicles is essential and when I learned about Blue Vault in 2010, our firm immediately began using their material as a tool to build confidence in the minds of our advisors on which alternatives to recommend to clients.  I am impressed with the way Blue Vault continues to add value to their subscribers and I view their publication as a tremendous resource in today's complex world.