New Trophy Apartments Filling A Void
Gateway cities are seeing a boom in class A apartment construction, but secondary metros also have some vibrant areas that can support new trophy properties.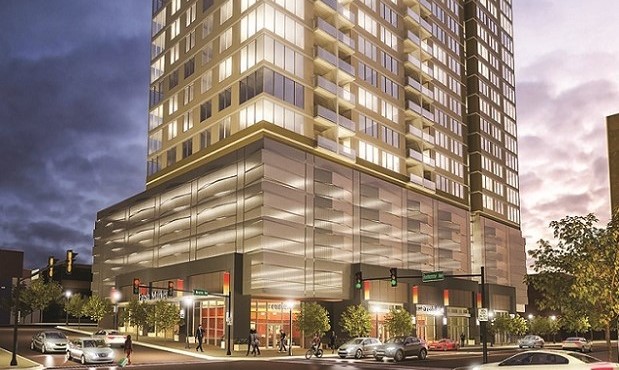 July 19, 2017 | BRIAN J. ROGAL | GlobeSt.com
ST. LOUIS—Cities like Chicago have recently seen thousands of sleek new apartment units pop up near their respective downtowns, and that boom is far from over. But robust demand for class A+ apartments also exists in smaller markets, and some developers have moved in to satisfy that demand.
A joint venture between two Chicago firms, CA Ventures and White Oak Realty Partners, has just held a grand opening for Two Twelve Clayton, a new 26-story class A high-rise in west suburban Clayton comprised of 250 apartments and 9,300 square feet of amenities. The town's highly-developed central business district has become a jobs mecca for the entire region, but its affluent workforce has not had access to best-in-class luxury apartments.
In fact, this project, located at 212 S. Meramec Ave., is the first class A+ building of its kind in Clayton, Richard Blum, managing principal for White Oak, tells GlobeSt.com. "St. Louis has always been an attractive market for us because the city has so much to offer residents, from both a recreational and economical perspective. And now, we can offer the opportunity to live in one of the most engaging, modern rental buildings St. Louis has ever seen. With its convenient location to Clayton's business district and top-of-the-line amenities, Two Twelve will definitely be filling a void in the strong St. Louis rental market."

Go Back
Second Annual Blue Vault Broker Dealer Educational Summit 2016
2016 Broker Dealer Educational Summit 2016
Best Due Diligence meeting in the industry. No sales pitches, senior level decision makers, meaningful discussions and the Broker Dealer networking sessions were especially useful. Thanks to Blue Vault for raising the bar!