FFO of all REITs Declined in Q3, but Firm Fundamentals Point to Future Growth
November 21, 2017 | Calvin Schnure | Nareit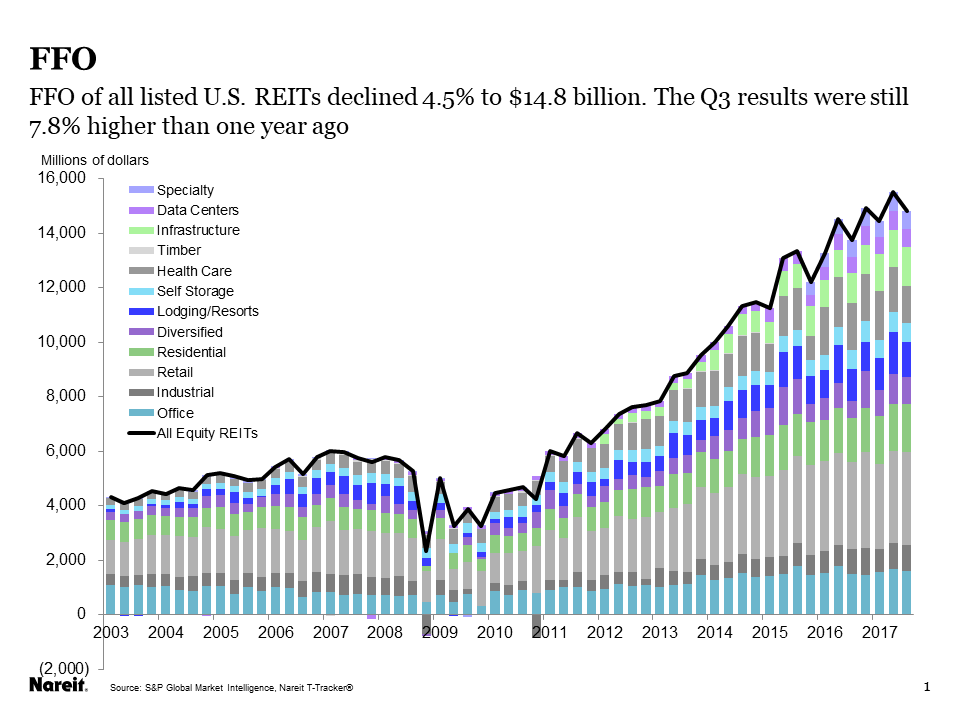 FFO of all U.S. listed REITs in the third quarter was $14.8 billion, 7.8 percent higher than it was one year earlier, according to the Nareit T-Tracker®. On a quarterly basis, this was a 4.5 percent decline from $15.5 billion in Q2, as several large gains in industry earnings in recent quarters lifted total FFO above the $15 billion mark for the first time ever.
The fundamentals for the REIT industry remain firm, which gives us some confidence that the recent decline in FFO is a short-term dip amidst a longer-term trend of mostly solid growth. REITs report rising income from stores open one year or more, as same store NOI was 3.2 percent higher than one year ago. This pace of income growth is more than twice the rate of inflation, as measured by the Fed's preferred inflation measure, the core PCE deflator, of 1.3 percent.

Go Back
James Darren Roberson
August 22, 2017 at The National, the annual NPH Educational Conference
I had no idea this service existed. I could have used it years ago! Great presentation and service!