---
An Interview With The CEO of Apple Hospitality REIT (Part 1)
September 20, 2016 12:10pm | Tim Melvin| Benzinga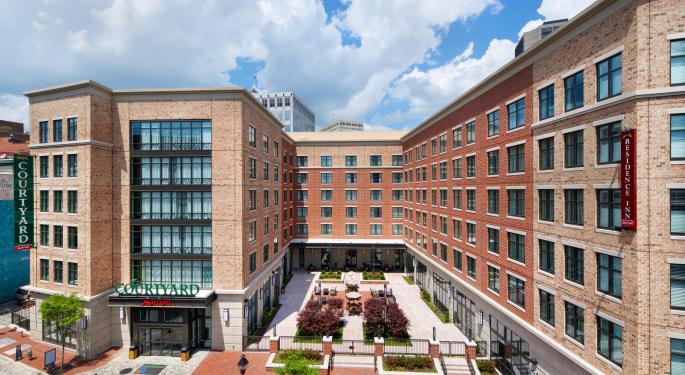 Tim Melvin, author of Banking On Profit, caught up with Justin Knight, the CEO of Apple Hospitality REIT Inc (NYSE: APLE). The following is a part one of their conversation.
Melvin: Mr. Knight, thank you for taking some time to talk with us today.
Knight: It's a pleasure.
Melvin: Now, Apple REIT is not really a headline kind of stock. Can you tell us a little bit about your company and what you guys do?
Knight: Apple Hospitality listed on the New York Stock Exchange in May of last year. We are the second largest publicly traded hospitality REIT and the largest hospitality REIT focused on flex service. We have 236 hotels and geographically diversified across 33 states and over 90 markets. We have a relatively young portfolio with an average age of 11 years and average effective age, meaning time since built or last renovated, of approximately four years.
Over that period of time, we've headed eight separate hospitality real estate investment trusts and purchased over 400 hotels. Four of the hospitality real estate investment trusts were taken full cycle in private equity transactions, and the remaining four were merged into our current platform
Melvin: What kind of hotels do you specialize in? Do you have a wide mix of property types or are you focused on one property type?

Go Back
I have been using Blue Vault Partners for the past five years.  I have found them to be a valuable, unbiased resource when it comes to evaluating and comparing non-traded REITs.  The reports help me analyze which sponsors are doing a responsible job of managing their offerings.  This allows me to limit my REIT recommendations to only the most competitive products, and then track those REITs throughout their life cycle.